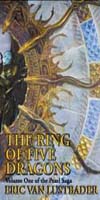 Eric Van Lustbader
Ring of Five Dragons
Nakladatel: HarperCollins
Počet stran: 616
Vazba: měkká
Jazyk: angličtina

Cena: 199 Kč
Struggling to survive an existence of enforced slavery on their home planet, the people of Kundala are slowly dying. Their oppressors the V'ornn, a technologically advanced, alien race, have reigned over the Kundalans with unyielding power for more than one hundred years. Only through the power of the lost, god-given Pearl can the Kundalans be saved from extinction, for within it lies a secret so potent it could tear the entire planet apart.
However, only one man is destined to find and wield the awesome power of the Pearl, his name is Annon, high prince of the alien V'ornn, preordained to become his enemies' saviour – the fabled and long awaited Dar Sala-at.
To fulfil his destiny he first must die and be reborn, his spirit fused into the body of a young Kundalan girl, Riane. As coexisting spirits in a single body, the two young identities of different gender, culture and race, will not only have to hide the quest for the Pearl from those who would seek to try to snatch such power for themselves, but also resolve deeply ingrained prejudices, for without doing so, the Pearl will never be found, and the Kundalans, and Annon are doomed.